One of my favourite festive holiday traditions is one that started when my oldest daughter was just 2 years old, and we've enjoyed it every year since – our annual Gingerbread weekend! This involves a weekend full of deliciously spiced baking, alongside a load of sweets, icing, and a TONNE of sprinkles!! It's a fun tradition that we look forward to every year, but I know from experience that even the simplest design can end up as a pile of candy and crumbs – so if this has been you in the past (and trust me, we've all been there!), or if you just fancy taking your gingerbread house to the next level – then read on for my Top 10 Tips for the perfect Gingerbread House!
1. Use a template
I've learnt the hard way that winging it doesn't really work too well when it comes to designing a gingerbread house! So I recommend using a template to help with planning the structure of your house – there are lots of free templates available online, both simple, and more ambitious – so either print one off, or trace it off your computer screen onto some parchment paper. A quick Google search will bring up lots of examples! Then just use a pizza cutter to cut the shapes out of your chilled, rolled out gingerbread dough – et voila!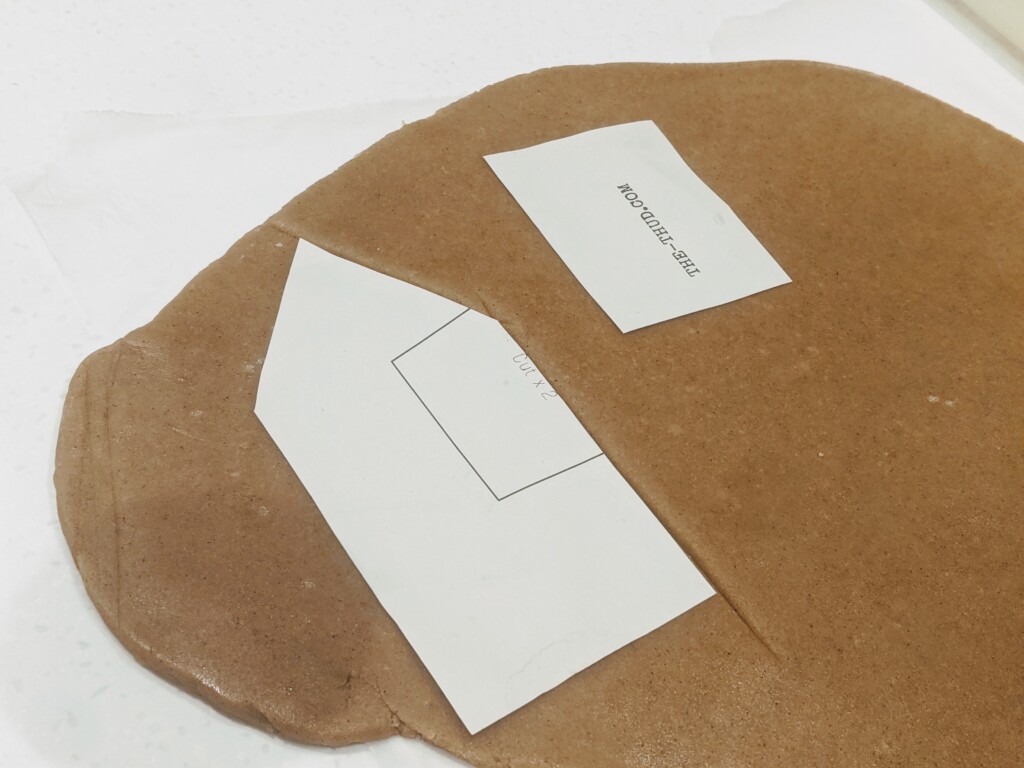 2. Use the right recipe
There are lots of yummy gingerbread recipes out there, but my favourite is one that creates a strong gingerbread wall that will withstand the weight of a roof, but that will also taste delicious when you eventually decide to eat it! This recipe from BBC Food is originally for gingerbread men, but I love using it for the structure of our gingerbread houses. It's full of yummy winter-spice flavours (without being overpowering in taste), has a lovely chewy texture in the middle, but is still strong enough to hold together as a house – winning all round!
3. Fancy windows!
You can't have a house without windows, so once you've cut your structure shapes out of the dough, carefully place them onto some parchment paper on your baking tray, and then cut out some windows! You can cut them out free-hand, or use tools that you already have in the kitchen to give them a nice neat shape, such as the large end of a round piping nozzle to give you perfect circular windows.
To give your house the extra 'wow' factor, use crushed boiled sweets to give your windows a special stained-glass look! Red, orange and yellow sweets work well for a warm glow emanating from your cosy winter house – 5 minutes before your gingerbread is due to come out of the oven, take it out and put your crushed sweets into the window holes. Then pop it back in the oven until the sweets melt – once it cools, you'll have some beautiful window panes in your walls!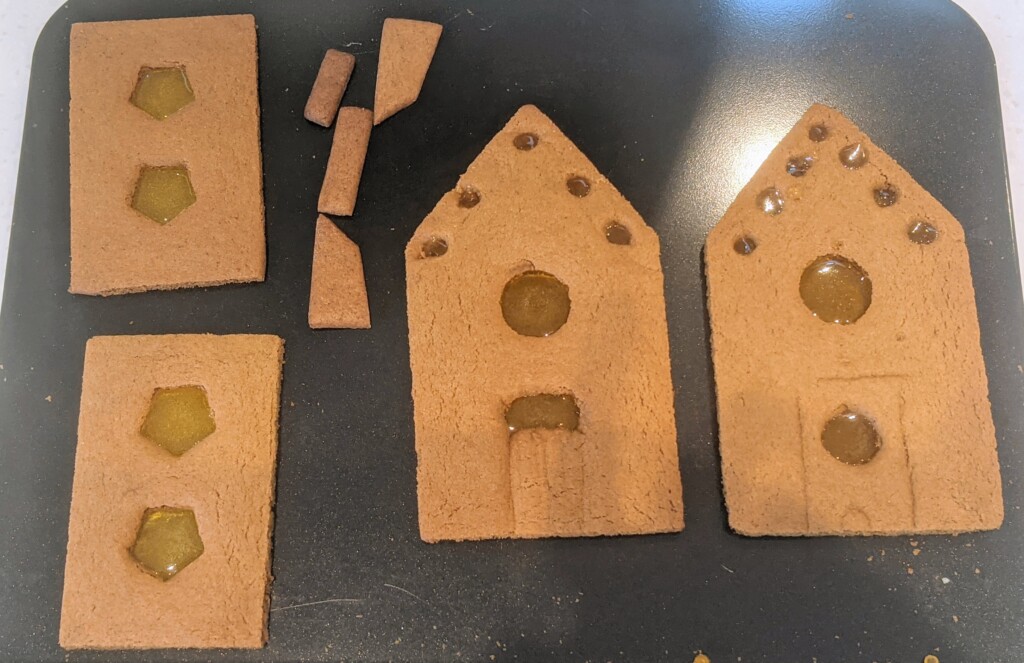 4. Chill your dough before baking
Once you've made your dough, roll it out between two sheets of parchment paper and chill it in the fridge for 10 minutes before cutting out the shapes. This will prevent it from spreading too much once it cooks in oven. However, inevitably you'll still get a little bit of spreading around the edges (a little like my waistline at Christmas *sigh*, and so, to make sure your walls maintain the right shape to become a perfectly structured gingerbread house, you can…
5. Trim the edges of your baked structure
Most delicious gingerbread will end up spreading at least a little once it's done baking. This can make it difficult to glue your walls and roof together, so once your gingerbread comes out of the oven, whilst it's still warm, very carefully trim the edges of your shapes using a large sharp knife and your original templates to guide you. You'll need to keep the gingerbread on the baking sheets so as not to break it, so be careful not to burn yourself!
If you're not to keen on this option however, another trick is to…
6. Finish off the edges with a fine grater
This was a total game changer for me, especially for small details such as chimneys! I use a fine grater normally reserved for zesting lemons, to sand down the edges of my gingerbread once its cooled – perfect for getting those walls perfectly shaped to fit together in your architectural masterpiece!
7. Choose the right glue to hold it all together!
Probably the most common problem encountered with a gingerbread house is getting it to all stick together – pretty heart-breaking to see it fall apart after all that hard work getting it prepared! Your icing needs to act like cement to hold the structure together, so use a good thick mix of royal icing – it has to be a thick toothpaste consistency, which will harden up nicely once it's been left to dry. Pipe a good generous line of icing down the side of a wall and hold the two walls together – use a sturdy prop such as a can of beans, to help keep your pieces together and upright.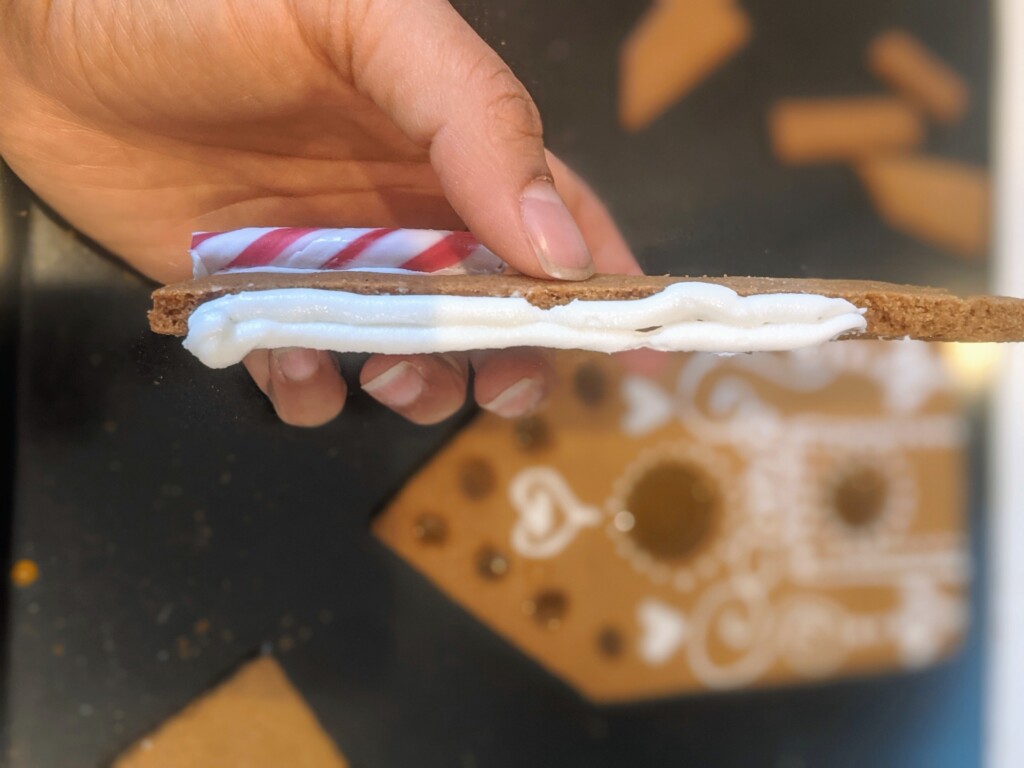 If you can't get hold of royal icing and need a substitute at the last minute, it's also possible to make your own sugar glue by carefully caramelising a cup of sugar in a pan, stirring until it turns golden, and then dipping the edges of your walls into the pan and gluing them together.
8. Set it up on a board
If you can get hold of a cake board, a chopping board, or even the bottom of a cake tin, use it to set up your gingerbread house – you can glue your house to the board for extra stability if you like, and decorate it with extra snow icing for the full winter scene effect!
Remember those lovely stained-glass windows we made earlier? If you decide not to glue your house down to the board, you can set up some little battery operated fairy lights inside the house, and suddenly you've upped your gingerbread house game to include a gorgeous, wintery fireplace glow from inside those sweet smelling walls!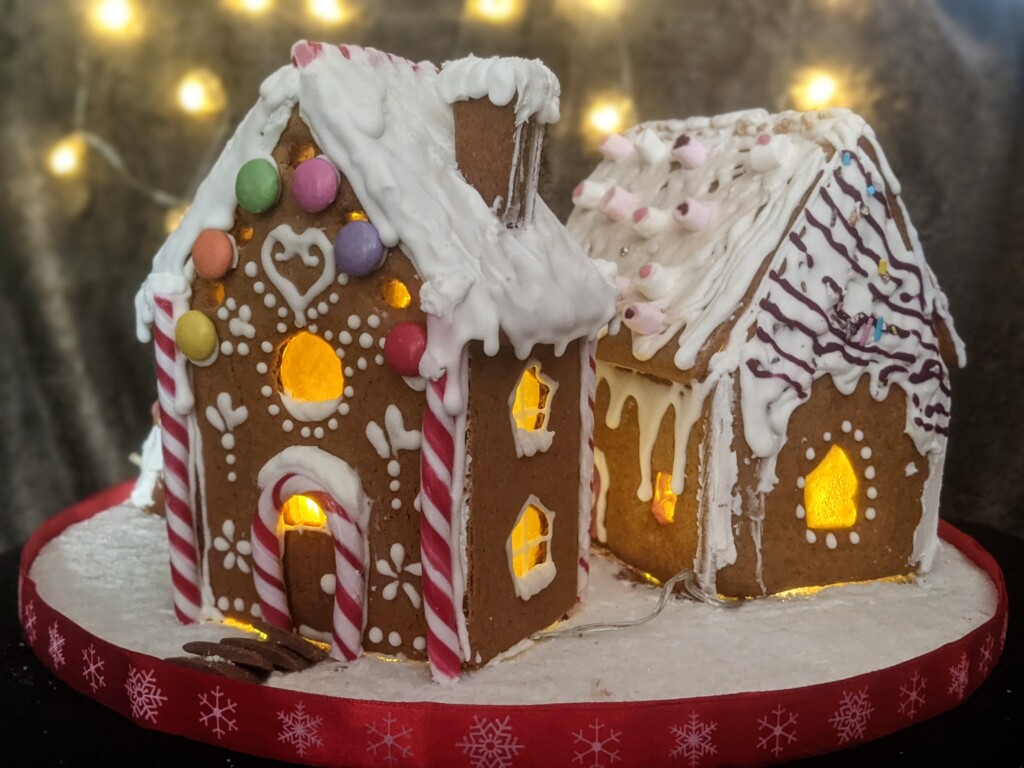 9. Get imaginative with your decorating!
This is the fun bit – time to get the icing, sweets, chocolates, and sprinkles out – and don't hold back! The more colourful the better in my opinion! Use your favourites, and get creative – chocolate buttons or shreddies work great for roof tiles, and candy canes make cute doorways and pillars too!
10. Have fun!
100% without a doubt, the best part of making our gingerbread house every year is the memories that we make, alongside our creations – so above all else, enjoy yourselves and remember – if all else fails and those walls fall apart into a crumbling mess – just throw some of your favourite sweets on it, and eat it anyway!
I hope you've found my Top 10 tips for making a Gingerbread House helpful – I'd love to see some of your own wonderful gingerbread houses, so if you'd like to share photos of your own creations, post a photo and tag me on Instagram @bbakeslondon!
Wishing you all a safe and Happy Christmas!
B x